ClonExpress MultiS One Step Cloning Kit (Vazyme, #C113) is a new version cloning kit based on ClonExpress One Step Cloning technology. Exnase MultiS and reaction buffer in this kit are especially optimized for the assembly of multiple fragments. With the help of this kit, up to 5 fragments can be orderly assembled in a single reaction. In addition, Exnase MultiS is compatible with the reaction systems of restriction enzyme digestion and PCR, which means that both the digestion products of vector and the PCR products of insert can be directly used for recombination without purification, significantly simplifying the procedures.
Vazyme ClonExpress One Step Cloning is a simple, fast, and high efficient cloning technology which is based on a homologous recombination technology. It enables directional insertion of any amplified DNA product into any linearized vector at any site. Firstly, the vector is linearized at the cloning site. A small sequence overlapped with each end of the cloning site isadded onto the insert through PCR. The insert and the linearized vector, with over lapped sequences of 15 bp - 20 bp on both 5'- and 3'- end, respectively, are mixed and incubated with Exnase II at 37°C for 30 min. The cloning products can then be directly transformed to competent cells with apositive rate > 95%.
Product Manual (pdf)
---
Advantages
Easy, fast, and efficient.
Directional cloning at any site on any vector.
No need to consider the restriction enzyme cutting sites carried on inserts.
Orderly assembly of up to 2 - 5 fragments simultaneously.
Linearized vector and PCR products can be used directly without purification.
When order, Cold Shipping option have to be selected, or your order may be delayed.
---
Selected Product Citations
---
Mechanism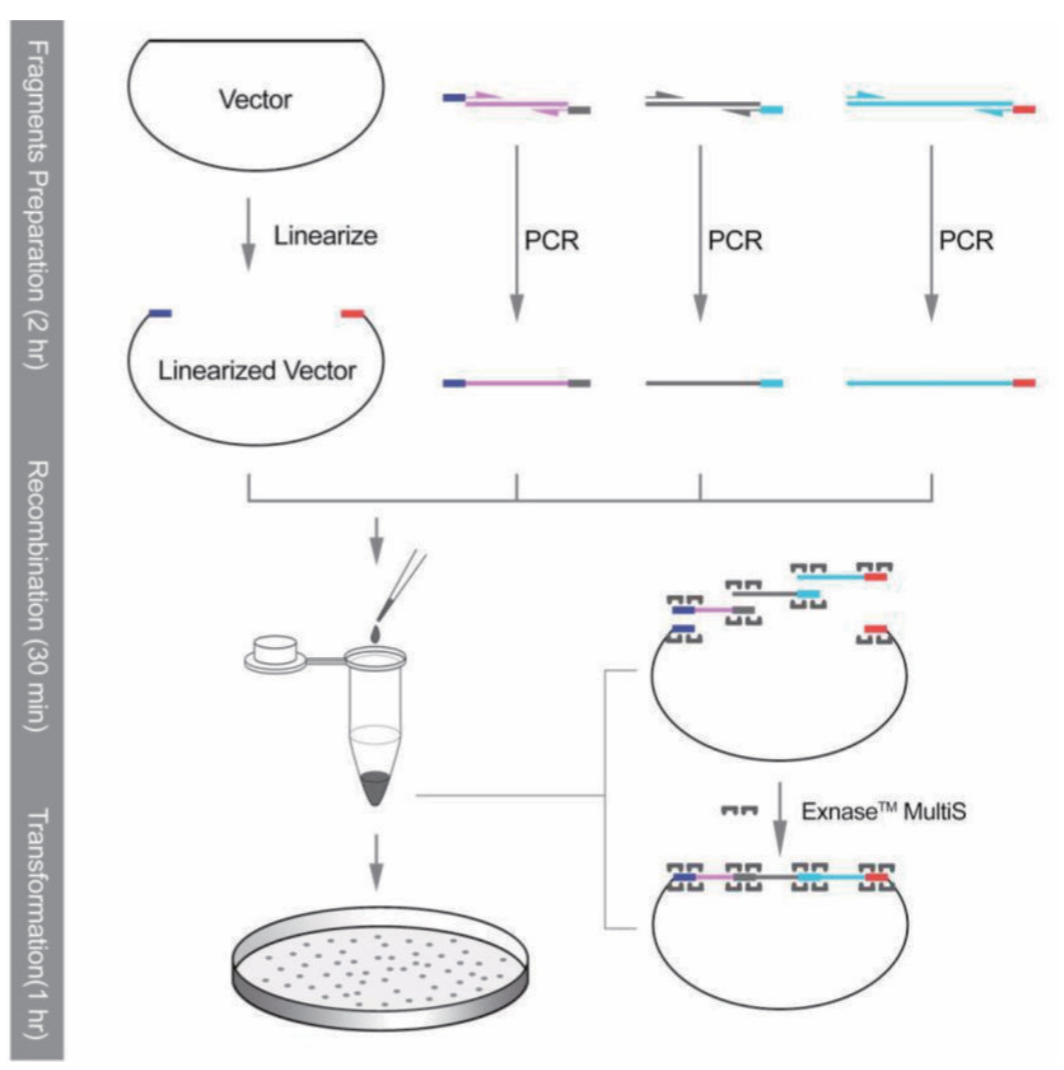 ---
Storage
All components should be Store at -20°C.
---
Components
---
Related Products
2 × Phanta Max Master Mix (Vazyme #P515)
Phanta Max Super-Fidelity DNA Polymerase (Vazyme #P505)
ClonExpress Ultra One Step Cloning Kit (Vazyme, #C115)
ClonExpress II One Step Cloning Kit (Vazyme, #C112)
Mut Express II Fast Mutagenesis Kit V2 (Vazyme, #C214)
Mut Express MultiS Fast Mutagenesis Kit V2 (Vazyme, #C215)